Digital One offers a variety of rental options to accommodate your specific needs.
Short-Term: 1 to 30 days
Long-Term: 6 to 36 months
Flexible-Term: 1 to unlimited months. Equipment may be returned anytime after the 6-month period without penalty.
$28 - $54 Round-Trip Shipping to 48 States and D.C.
For a single laptop or small projector
With 1 to 5 days notice (depending on your location), we can arrange delivery and pickup for only $20 total.
1-day shipping to Detroit, Columbus, Indianapolis, Pittsburgh and Cincinnati
2-day shipping to New York City, Boston, Chicago, Atlanta, and Washington D.C.
3-day shipping to Miami, Dallas and Denver
4-day shipping to Los Angeles, Las Vegas, San Francisco and Seattle
We also offer next-day shipping throughout the United States. See the map below for a breakdown of price by region.
Next Day Shipping Prices (last minute rentals are welcome):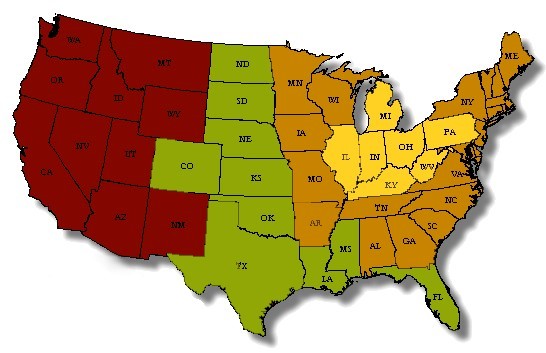 Shipping cost for multiple laptops will be much lower per item. Please contact us for more details.
Note: Lower than listed prices may be available for a variety of reasons. Please call to get an updated price for your rental. For desktop computers and other items please call for shipping cost.
NOTE: Customers renting a quantity of 5 units or more may be eligible for substantial savings on rental and shipping prices.
RENTAL PROCESS
Call Digital-One to request a rental and speak with a live person.
We will email a rental agreement to you. It will include the exact equipment you've requested, rental period, and pricing. Sign and email back the paperwork.
Your rental equipment will be delivered right to your door. The package will include your prepaid return shipping label.
RETURN SHIPPING
Affix the return shipping label completely over the original shipping label. Choose one of these three return options:
Drop off box(es) at any UPS Store.
Include the box(es) with your company's regular UPS pick up.
Call us to arrange a UPS pickup at your location. (Terms and conditions apply, so please discuss this option with us prior to your rental.)